VIP-Invitation to "Paris Blockchain Week (PBWS) Summit 2020"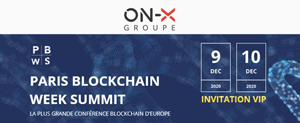 Our partner ON-X, as co-organiser, and the "ONVEX" Consortium, of which Venturexpert UG is the leader, are pleased to invite you to the "PARIS BLOCKCHAIN WEEK (PBWS) on 9 and 10 December, the largest international conference in France dedicated to professionals in block chains and monetary cryptology.
This second edition will welcome nearly 130 renowned speakers (including Nicolas Cantu, director of ON-X Blockchain) from the political, technological and financial world, including Cédric O (Secretary of State for Digital Technology) and Changpeng Zhao (founder and CEO of Binance).
More than 1,700 participants and 100 media will also be gathered around 4 themes: technology manufacturers, open finance, the business chain and public policy. During the two-day conference, many topics will be discussed, such as stable parts, decentralised finance, CAD, governance and developer communities.
Due to the health crisis, the PBWS 2020 will be a virtual event.